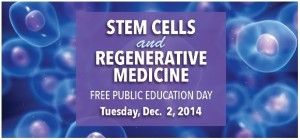 Texans for Stem Cell Research (TSCR), proudly announces its participation in the World Stem Cell Summit, 2014 in San Antonio
November 25th, 2014 | Texans for Stem Cell Research (TSCR), proudly announces its participation in the World Stem Cell Summit, 2014 in San Antonio, Texas, December 2-5th, 2014. TSCR will co- host a Welcoming Party for the Genetics Policy Institute, the organizer of the Summit, along with the City of San Antonio and the San Antonio Economic Development Foundation. This event will be held at the San Antonio Convention Center LDR Room, 200 E. Market St. The event will be from 7:30-10:30 pm on December 2, 2014.
Featured speakers include Dr. Doris Taylor of the Texas Heart Institute, TSCR's newest Medical Advisory Council member, and Dr. Will Decker of Baylor College of Medicine. Dr. Taylor's research includes building a whole human heart and employing stem cell research to understand the differences between cardiovascular disease in men and women at a cellular level. The Texas Heart Institute leads the world in stem cell research and Dr. Doris Taylor's team is pioneering the emerging field of regenerative medicine, providing hope for many of our patients and millions more around the world.
Dr. Decker, will give an update on his cancer vaccination approach in which he recently received a patent. His research and ultimately all therapies using the immune system to battle cancer, one day may make chemotherapy and radiation treatments things of the past.
City of San Antonio District 8 Councilman Ron Nirenberg will be on hand to welcome Summit attendees along with San Antonio Economic Foundation Chairman ,Steve Waters. San Antonio, a growing," City of Health and Science" recently released its 2014 economic impact study on the Health and Bioscience Industry which shows this targeted industry contributes over $30 billion to the San Antonio economy, employing nearly one of every six employees.
Following the scientific session, attendees will be treated to the unique sounds of San Antonio with a special musical presentation by San Antonio musicians and Grammy Award winners Max Baca y Los TexManiacs with special guest Flaco Jimenez, Patricia Vonne and Michael Martin.
TSCR is also proud to participate in the Stem Cells and Regenerative Medicine Public Education
Day hosted by The University of Texas Health Science Center at San Antonio. The Public Education Day, an educational service for the city and region, includes a morning keynote address and three afternoon speakers and panel discussions. The events will be held in the Pestana Lecture Hall and Holly Auditorium on the Long Campus of the UT Health Science Center, 7703 Floyd Curl Drive, San Antonio, Texas 78229.
The 9 a.m. keynote address, "Stem Cells: Their Biology and Promise for Regenerative Medicine," will be delivered by Elaine Fuchs, Ph.D., in the Pestana Lecture Hall. Dr. Fuchs is an HHMI Investigator and the Rebecca C. Lancefield Professor at The Rockefeller University in New York. She is known for her pioneering work in researching skin stem cells.
Afternoon sessions beginning at 1 p.m. in the Holly Auditorium will include expert panels and Q&A on these topics: Stem Cells 101, Health Care Applications and Hot Topics. TSCR's Chairman, David L. Bales, will serve on the stem cell panel on "Health Care Applications" and will discuss the increasing problem of ," stem cell tourism".
And last, but not least, TSCR will proudly accept the," Educational Award" at the Awards dinner, Wednesday, December 3rd, as a model grass roots stem cell advocacy group. This award culminates seven years of advocacy by TSCR and is a result of countless hours of devotion by members of our Medical Advisory Committee, our Advisory Council and numerous other volunteers.
David L. Bales, Chairman of Texans for Stem Cell Research, "to be recognized by your peers for the dedication and sacrifice of so many in our organization is truly an award we are honored and proud to accept. We would like to thank Bernie Siegel and the Genetics Policy Institute for this award and their continuing leadership to alleviate pain and suffering through stem cell research and therapies for those fighting disease".
To register for the Summit, please go to worldstemcellsummit.com
Texans for Stem Cell Research (TSCR) is a non-profit, all volunteer organization based
in Austin, Texas whose mission is to provide educational information to the public and policymakers regarding the medical and economic benefits of stem cell research and therapy in Texas. We work to advance stem cell research and regenerative medicine by increasing the number of FDA approved stem cell clinical trials in our state. Our goals include assisting in fundraising efforts for safe and ethical stem cell research and therapies in Texas.
LINKS
Stem Cells & Regenerative Medicine #Free Public Education Day @UTSCSA
http://research.utsa.edu/files/PressRelease/HSC_Public_Ed.pdf
Public Education Day @WSCSummit
https://worldstemcellsummit.com/2014-world-stem-cell-summit-free-public-education-day/