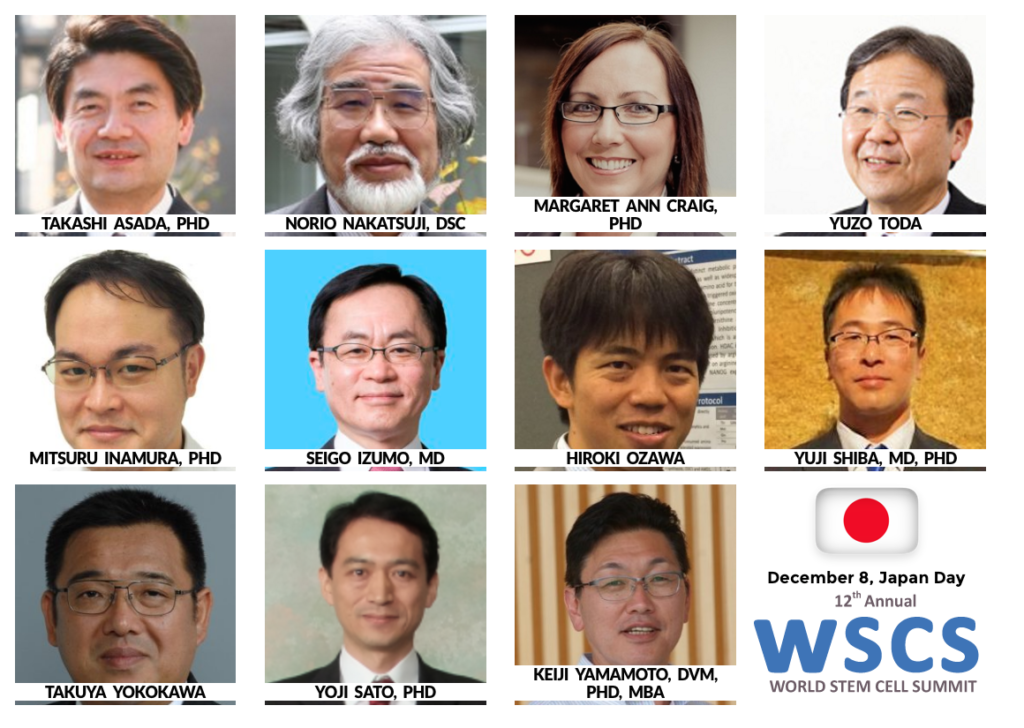 Japan is not only a leader in Stem Cell research, but also a country that has a fully integrated plan to advance and accelerate regenerative medicine products –as we recently featured in an article on our sister blog, Regenerative Medicine News.
In another recent post, we discussed the repercussions and great media impact of a recent Japanese study where cardiac muscle cells derived from the stem cells of a monkey healed the damaged hearts of five other monkeys.
At the World Stem Cell Summit we have convened key Japanese leaders who are spearheading these and other hot developments, and put together a program that is a must-attend for anyone seeking to gain first-hand knowledge and insight into what is happening in Japan.
Thursday December 8 will be Japan Day at the 12th World Stem Cell Summit, with a program where, among plenty of non-Japan related sessions, we find a great line-up of Japanese content:
9:30-10:30 AM. Ballroom B. Determining Cell  Safety For Therapy
Featuring Yoji Sato, Head of Division of Cell-Based Therapeutic Products, National Institute of Health Sciences (Tokyo), and Keiji Yamamoto, Senior Director
Advanced Science Research Laboratories Takeda Pharmaceutical Company Limited, Tokyo, Japan
12:20-1:30 PM. Grand Ballroom. 5th Annual Japan Symposium.
Symposium moderated by Takashi Asada (Kyoto Univ.)
Overview and Introduction, by Norio Nakatsuji (iCeMS, Kyoto University)
Preclinical transplantation study of iPS cell-derived cardiomyocytes for cardiac repair, by Yuji Siba (Shinshu University)
Fujifilm's Regenerative Medicine by Takuya Yokokawa (Fujifilm Corporation)
Practical application of iPS cells for drug development and regenerative medicine, by Mitsuru Inamura (RiproCELL, Inc.)
Development of a novel xeno-free medium, StemFitR, for human pluripotent stem cells by Hiroki Ozawa (Ajinomoto, Co., Inc.)
T-CiRA: An Industry-Academia Collaboration in an Attempt to Overcome "Death Valley" by Seigo Izumo (Takeda Pharmaceutical Company Ltd.)
3D micro tissue models of cardiac stem cells utilizing nanofiber technology exhibit more maturity and stability for acute and chronic drug discovery functional and structural assays by Margaret Ann Craig (Stem Cell & Device Laboratory, Inc.)
1:30-2:20 PM. Ballroom B. Non Human Primate Studies
Featuring Dr. Shiba, Head of the Department of Biotechnology and Biomedical Engineering, Academic Assembly Associate Professor (Institute of Medicine), Shinshu University
Institute for Biomedical Sciences, Nagano, Japan who will present on allogeneic transplantation of iPS cell-derived cardiomyocytes regenerates non-human primate hearts; and the work of Marcel M Daadi, Associate Scientist & Director, Stem Cells & Regenerative Medicine, Southwest National Primate Research Center, Texas Biomedical Research Institute,- San Antonio, TX.
4:00-5:00 PM. Grand Ballroom.  Regenerative Medicine: Revolutionizing Medical Treatment
Plenary keynote address by Yuzo Toda, Director Senior Vice President FujiFilm Corporation
 Mark your calendar for December 8, Japan Day at the 12th World Stem Cell Summit. We hope to see you there.